The miles were ticking by under the steady systematic whir of bike gears and the cereal like crunch of Kansas's flint gravel. My body was on cruise control and even though I was only 70 miles in of the 200 mile Dirty Kanza I was confident that I would finish before the sunset at 8:45pm of what was turning into a perfect summer day. The wind was at my back and I had dodged the early mechanical problems that befell many riders in the first muddy 20 miles. I was dancing on the pedals as I passed other riders on the steep punchy hills.
And then the wheels came off the wagon, more specifically my pedal came off. An overlooked regular maintenance of my pedals had caused the body of my pedal to come detached from the spindle. The pedal body was still attached to the metal cleat on the bottom my cycling shoe and after removing it was I unable to reattach it to the spindle. I stood road side and watch riders I had passed a short while ago zip by offering words of encouragement.
Screw encouragement, what I need was a new set of pedals. Standing in the middle of the tall grass prairie of Kansas it didn't seem very likely that a pedal was going to drop out of the sky. I was in fact up the proverbial shit creek without a paddle. To take it one step further I was now the one legged man in an ass kicking contest.
It was time to HTFU. I could do this. Only 30 miles to the 100 mile check point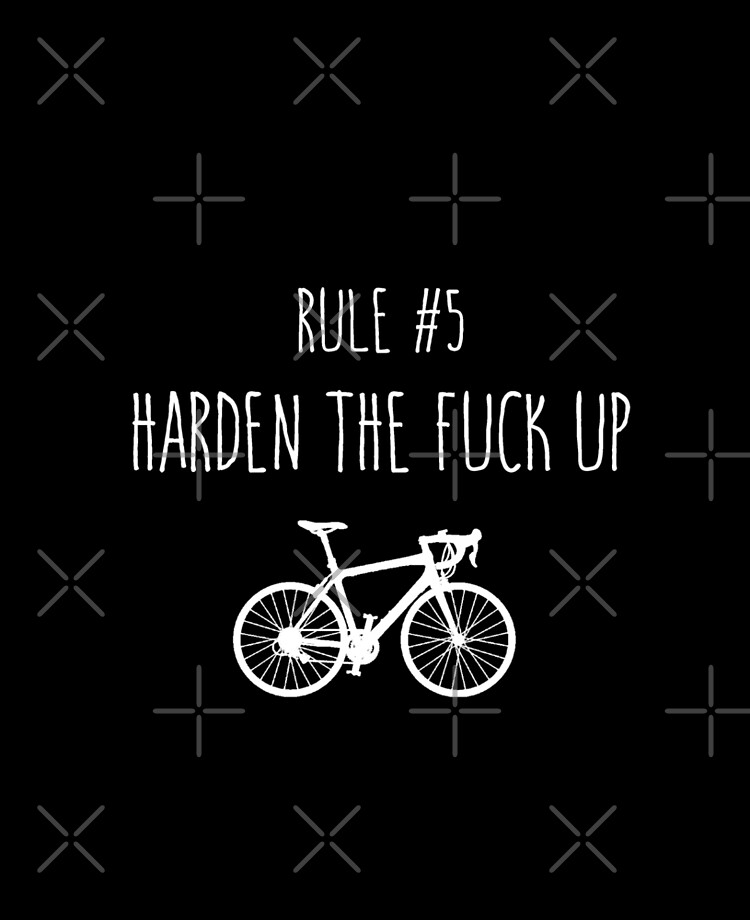 If you made it this far in the blog, you are probably saying to yourself, "I though cycling was supposed to be fun."
No doubt cycling is fun. If it wasn't we would not have seen the boom in cycling this year during COVID. In fact according to an article in the LA Times urban bike use is up 21% in 2020, the Rails to Trails Conservancy has seen trail use skyrocket by 110% and swing into any bike shop and you will see quickly that there aren't that many bikes for purchase due to the run on new bikes.
For the longest time I have belonged to the small tribe of people who know the freedom and joy a bike brings. I am happy to see that tribe grow. Within my tribe there is even a smaller tribe (though it is growing too) that gets a thrill out pushing themselves beyond what most would consider normal on the bike.
Interesting the tribes of cycling tend to embrace cliches as mantras and a way to identify each other. Whether it's the ones I used above in my opening paragraphs or to embellish my stories post ride when I talk of "dropping the hammer" and "riding on the rivets" to bring back the break, the cliches exist. They act as a way for one fellow cyclist to identify another, to create a sense of cool and intended or not to alienate those who aren't in our tribe.
This year I joined another tribe and quickly learned that we too have a whole host of cliches designed to motivate, give hope and encouragement. I always thought of myself and other cyclist in my tribe to be tough, but quickly learned no one hardens the fuck up like the cancer community.
Once the word is out that you've been diagnosed with cancer you are quickly labeled a warrior, a fighter and inspirational. For some this doesn't sit so well and before I was diagnosed with cancer this year I often thought it felt a bit dramatic. Now, I am not so sure. Once I heard those words, "you have cancer", I quickly found myself grabbing every cliche out there and attaching it to myself like a comfort blanket and suit of armor all rolled into one. This wasn't a fucking pedal falling off my bike. This was my the cells in my neck and throat growing out of control and crowding out my healthy cells. For Pat Benatar Love is Battlefield for me my body was a battlefield and my tumor on my neck was literally the Battle of the Bulge.
So when do cliches help and when do they harm? For me and I think for many with cancer, they provide a bit of fantasy for us to hold on to in a time of uncertainty and uncontrollable fear. If a person can imagine themselves as some type of strong leather clad sword wielding warrior who despite tough odds is standing up to fight another day, then I say go with it if it makes getting through the chemo or another round of radiation a bit easier.
Let's pull back and look at it from another point of view. Cliches like stereotypes can be, intended or not, hurtful and demeaning. That same person you call brave, a true warrior and an inspiration to others as they battle cancer may feel a ton of pressure an anxiety when you drop those labels on them. There is actual research that those cliches that we often think of as being supportive and encouraging are actually inappropriate and anxiety inducing.
I would like to think I am a fighter and a warrior but the reality is I can't fight my cancer. Punching myself repeatedly in the neck is not going knock my cancer out.
In the end I'm glad I am inspiration and that you are rooting, praying and thinking about me and every other person who has cancer. I would ask that you take it one step further. Forgo the cliche statements and take action and help make a difference.
Donate to cancer research
"Let me know if you need anything." act on that cliche. Most people are too proud to actually ask for help so instead do something for them without being asked.
Get your vaccines and make sure your family does too. The HPV vaccine greatly reduces the risk of cervical, anal, penile and oral cancer. Flu shots not only reduce your risk of the flu but keep people with compromised immune systems safe.
Wrapping this up and probably the only thing you can think about is, "Enough of this cancer shit. Did you finish the DK 200?"
Hell yeah I did. I reach deep into my "suitcase of courage", rode 30 miles on one pedal, got a new set of pedals from my support crew at mile 100 and then engaged in a 100 mile sufferfest while "deep in the pain locker" in to a headwind. That shit was easy compared to cancer. The Dirty Kanza has a finish line. Cancer always has a what's next.